Overview
And this is how it works here in the browser
You can change the settings at the top right:
► Language
► Background:
► Full screen:
With videos, however, the full screen can only be switched directly on the video itself. To do this, you have to click here at the bottom right of the video: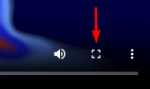 Installation — a new work
A new work: QUEER !
An installation with photographs and three video projections.
I had the first idea in November 2022. It wouldn't let me rest. The work was completed in July 2023 and was followed by the exhibition in Berne.
► To the presentation of the work
Multidimensionality
L'idée du Jour
Rencontres de la Photographie, Arles
Co-Operations
VideoWorks @ Angers
Fluxon
Transmission
Wrap-Up 1
Wrap-Up 2
► Four Videos
Video-Experiments
Instructions — And some questions
For minimalists
For those in a hurry
For bureaucrats
For the patient
For metaphysicists
For artists
► Six videos and a summary
Experimental Videos
LichtWerk – LightWorks
Splitting Images
To be one and more than one
Expanding Space
► Four Videos
Light-Paintings — Slide Shows
Encounter in a deserted place
Play with light
Let there be light! — But where and how?
Light Factory
Light Works in the Light Loft
► Two Videos
Archive — Early Works
Life Space Universe
The basic idea of the installation is the representation of a life cycle, a cycle. (in German)
Video der fertigen Installation
Making of: Print des 6.5m langen Bildes
Making of: Montage im Atelier
Test im Atelier
► Four Videos
Requiem for a Secret
Photographic thoughts on current events, the rise of the Swiss financial center and banking secrecy, as well as its fall.
► Description
► Video-Slideshow
In the beginning was the Word
The word was followed by gold and money